Saturday, March 27th - Sunday, April 4th
Chabad of Bethesda is ready to provide everything you need to celebrate the 'Holiday of Our Freedom'
Socially-Distanced Community Seder | Seder-To-Go Kits | Shmurah Matzah | Sale of Chametz Form
Bedikat Chametz Kits | Seudat Moshiach
​
---
Socially-Distanced Passover Community Seder in our climatized tent!
Open to the entire community!!
B'zchut Adel Bas Avrohom HaCohen
CLICK HERE FOR THE COMMUNITY SEDER WEBPAGE
Join us in a safe and friendly atmosphere in our outdoor tent for a social-distanced yet unified community Seder. Participate in the beautiful traditions. Discuss the Haggadah and share with us your own insights. Enjoy a deliciously prepared Pesach Dinner. The Seder spirit here is always special and the opportunity to welcome everyone in a safe and communal environment is particularly meaningful this year!
So, come join us for the 1st Seder!

Date & Time:
Sat Night, March 27th @ 7:30pm
Location:
5324 Goldsboro Rd
Bethesda, MD 20817
Cost (per Seder):
$45 Adults, $20 Children
RSVP Required
RSVP soon to guarantee your seat
Click here to RSVP online
or call (240) 370-8819
​​
---
Seder-To-Go Kits
With everything you need for your own Seder!
CLICK HERE FOR THE SEDER-TO-GO KIT ORDER FORM
For the second year in a row, many of us will not be able to be joining family and friends for the Seder. As with last year, Chabad of Bethesda has you covered with prepared kit that has all you need to run your Seder. With alone or with a small group this kit will help you pull off the Seder like a pro!
Kit Includes: Shmurah Matzah, Wine, Seder Plate w/ all the items, a Haggadah, a step-by-step handbook, and some fun extras! 
Coming soon: You can order delicious prepared Passover meals to be picked up along with your Seder Kit, catered by Char Bar DC

Order by:
Sunday, March 21st
Pick Up Location:
5324 Goldsboro Rd
Bethesda, MD 20817
Cost per kit
$36
($10 delivery within 10 miles of Chabad)
 
Click here to Order
or call (240) 370-8819
​
---
Shmurah Matzah
Keep the tradition going round!!

Matzah plays a central role on the Holiday of Passover and goes by many names. 'Bread of Faith', 'Bread of Affliction', 'Bread of Healing'... It reminds us of our humble origins and about the unique and powerful relationship we share with G‑d.

This year use the original stuff!
Order your authentic, hand-baked
Shmurah Matzah, nothing that you
will bring to the Seder table will
stimulate the discussion more...
Click here to go to Matzahman.com
---
Selling of The Chametz
Mechirat Chametz
Torah mandates us to get rid of all Chametz that is within our possession. Any Chametz we would like to hold on to for after the Holiday must be sold temporarily to a non-Jew in complex legally-binding transaction.

Rabbi Sender Geisinsky of Chabad
will  act as proxy on your behalf to
successfully execute this transaction.
Click here for the online form
Please fill it out the form & send it in
before March 21st to ensure the timely
processing of your sale.
---
Bedikat Chametz Kits
Searching For The Chamtez
Thursday Night, March 18th is the last weeknight before Pesach. On this night one must search their home for the any Chametz that maybe hidden away. Any chametz found is collected and stored until the following morning when it is burned. Traditionally, one performs this search by placing 10 pieces of bread around the house and then 'searches' for them using a candle, wooden spoon, feather and paper bag.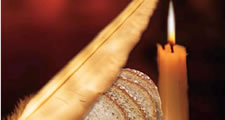 For your convenience, Chabad of Bethesda
will be selling kits that facilitate this
tradition. Each kits includes: a candle,
feather, wooden spoon, and paper bag.
Cost:
$3.00 Kit - Supplies are limited.
Call now to reserve: (240) 370-8819